Das Epoch™ 2 Mikroplatten-Spektralphotometer bietet herausragende Leistungen bei UV-Vis-Messungen in 6- bis 384-Well-Platten, Küvetten und mit der verfügbaren Take3 Platte selbst bei Mikrovolumen-Proben. Die optionale Touchscreen-Oberfläche erleichtert die Auswahl vordefinierter Protokolle sowie das Programmieren benutzerdefinierter Anwendungen. Applikationen wie Endpunktmessungen, Kinetiken, Spektralanalysen und das Scannen des Wellbodens maximieren mit der Temperierung und Schüttelfunktion die Applikationsvielfalt.
Anwendungen
Dank der Temperierung bis 65°C, seiner Schüttelfunktion und der UV-Vis-Absorption unterstützt Sie der Epoch 2 bei zahlreichen kolorimetrischem Anwendungen sowie der Quantifizierung von Nukleinsäuren und Proteinen.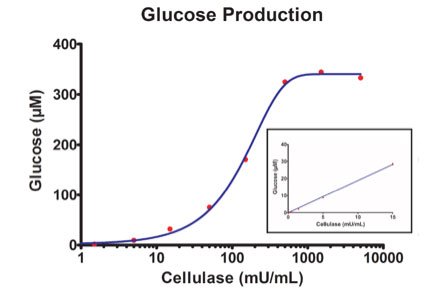 Glukoseproduktion aus Zellulose
Nukleinsäurequantifizierung in einer Küvette mit dem Epoch 2
Mikrovolumen (2 µL) Quantifizierung von bis zu 48 Proben mit der Take3 Platte

Dies sind nur einige Beispiele für die zahlreichen Anwendungsmöglichkeiten des Epoch 2. Weitere Details finden Sie unter Applikationen.
BioTeks Produkt- und Applikationsspezialisten bieten Ihnen eine erstklassige wissenschaftliche Unterstützung bei der Planung und Optimierung Ihrer Experimente mit den Geräten und Software von BioTek. Erfahren Sie, wie sie auch Ihnen helfen können, Ihre Forschung voranzubringen!
Merkmale
Filter-free UV-Vis wavelength selection from 200 – 999 nm
End point, kinetic and spectral scanning
The onboard software in Epoch 2 enables several read modes including single and dual wavelength end point and kinetic measurements. Spectral scanning provides a convenient, quick spectrum of all defined samples. Under Gen5 software control, well area scanning is also available, along with powerful data analysis.
Compatible with 6- to 384-well plates and cuvettes for assay versatility
4-Zone™ incubation to 65 °C and Condensation Control™
Some important applications like biofuels research and food & beverage safety and quality call for higher incubation temperatures than typically expected. Epoch 2 can meet these assay requirements. Kinetic assays are optimized with Condensation Control to prevent interference caused by condensation on plate lids.
Micro-volume (2 µL) measurements with the Take3 Plate
Available touchscreen interface and onboard software
Access several common end point, kinetic or micro-volume assays through the convenient touchscreen. Displayed data can be output to a printer or USB flash drive for added flexibility. Epoch 2 comes with Gen5 software for additional powerful data analysis.