EL406 Washer/Dispenser-Kombination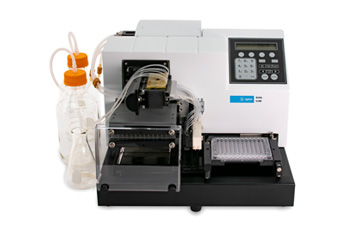 Der EL406 Washer und Dispenser bietet schnelles Waschen von Mikroplatten in Kombination mit drei Reagenzdispensern - in einem kompakten Gerät. Er ist die neueste Weiterentwicklung im Bereich des Waschens und Dispensierens von 1536-, 384- und 96-Well Mikroplatten. Mit dem patentierten Dual-Action™ Waschkamm ist der EL406 in der Lage, Waschprozesse von leicht adhärenten Zell-Monolayer zu optimieren. Die Ultrasonic Advantage™  Technologie ermöglicht die unbeaufsichtigte Reinigung des Waschkamms. Mit Ventiloption für die Verwendung von bis zu 4 Waschpuffern für komplexe Waschprogramme.
Das Waschmodul magnetische Beads bietet hochpräzise biomagnetische Separation in 384- und 96-Well Mikroplatten. Um aktuellen Anforderungen gerecht zu werden, bietet der EL406 eine Kombination aus Waschen von Mikroplatten unter Verwendung magnetischer Mikropartikel, die immer öfter in Multiplex-Assays und Bead-ELISA-Assays zum Einsatz kommen, und Dispensieren von Reagenzien. Die Magnetplatten von BioTek enthalten starke Neodym-Eisen-Bor Magnete für die schnelle Separation von Mikrometer und Nanometer Partikeln bei höchster Retention. Mit dem zusätzlichen Magnet Adapter Kit kann jede EL406 Konfiguration für magnetische Bead Assays verwendet werden. Das Modul Vakuumfiltration eignet sich sehr gut für Polystyrol Bead Assays und Filtration zu Abfall Prozesse. Der EL406 Mikroplatten Washer und Dispenser ist Luminex® xMAP® verifiziert.
Bisher mussten sich Wissenschaftler für eine Mikroplatten Dispensiertechnologie entscheiden, in der Regel entweder für Peristaltik- oder Kolbenpumpe. Jede Technologie bietet ihre eigenen Vorteile. Der EL406 macht die Entscheidung überflüssig, indem er beide Dispensiertechnolgien und die Waschfunktion für Mikroplaten auf einer einzigen Plattform vereint. Ein Knopfdruck genügt und das Gerät muss nicht weiter beaufsichtigt werden. Die Automatisierung ist möglich durch die Verwendung des BioStack™ Mikroplatten Stacker.
Der EL406 eignet sich für diese Applikationen:
ELISA Automation
MSD Automation
High Content Screening Immunzytochemie
Markierungsfreie zellbasierte Assays – speziell in 1536-Well Mikroplatten
FLIPR® Ca2+ flux
Automation von magnetischen und Polystyrol Bead Assays für Gen- und Proteinexpression
xMAP® is a registered trademark of Luminex® Corporation.
FLIPR® is a registered trademark of Molecular Devices®
 
Anwendungen
Applications for the EL406 Washer Dispenser run from simple dispense operations to full-scale automation of liquid handling steps in preparation for downstream processes. Here are a few important applications of the EL406.
Bead washing
Cell washing /media exchange
Bulk reagent dispensing
Cell seeding

These are just a few examples of the many important applications for EL406. Visit our Applications page to see more.
BioTek Field Applications Scientists (FAS) and Product Specialists provide unparalleled scientific support, assisting with experimental planning and assay optimization on BioTek's instrumentation and software. Learn how they can help move your science forward… faster!